"Diaspora", that's a big new word for me. I learned it after somehow stumbling upon a discussion on The Nation Webboard about how Thai people feel towards other Thais who were raised or lived a long time abroad (discussion here). The discussion is interesting to me because I never thought much about it but I do have some of those same feelings. Read on. There is a treat for you at the end of this post.
Diaspora means "the dispersion of a people from their original homeland". So that would be Thai people living abroad. The thread starter "Steve" asked how Thai people feel about the Thai diaspora. The first commenter made a couple of points that got some other commenters upset but also some of them agreed, and I think I share some of his same feelings.
I guess first I should say I am definitely not one of the Thai diaspora. Although I lived in America for 10 years I grew up in Thailand and am definitely Thai in my thinking and behavior. My time in America educated me but did not really change much in the way I feel about things. And it didn't change the way I speak Thai, which is one of the key points that came out in the discussion.
The first commenter said something like this: if a Thai person returns to Thailand and doesn't speak Thai like a native they are often thought of as a traitor. I think that is a little bit strong, but I thought about how I feel when I see a Thai person who doesn't speak Thai very well. It feels like they aren't real Thai. I think the feeling is much stronger than the feeling about how they look.
There are many Thai people who are luuk khrueng (mixed) and have very different looks. But if they grew up in Thailand and speak Thai like a native the feeling it gives when you see and hear them is that they are real Thai even though they might look 100% farang. The opposite is true when I see someone who looks Thai but they don't speak like a native – they just seem not so Thai.
There is some other discussion in that thread about being a traitor because you were in another country's armed forces, or the case of those Thais who try to pretend they aren't Thai and even pretend they don't speak Thai very well. Those things are something else. That thing about pretending not to be Thai – I knew a few ladies like that in America. They tried to act like they were American women, ignoring their Thai culture and normal behavior, as if they didn't know it was improper to wear a short skirt to a temple ceremony. Who were they trying to impress? Their new farang boyfriend I guess, or the other Thai people? The worst are the ones who try to speak broken Thai, like they are not native Thai speakers, copying, I guess, the way their farang husband speaks Thai. What is up with that? They pretend like they are now part of the Thai diaspora, like that makes them higher class or something?
Aside from those other issues about the "fake" Thai diaspora, it just seemed interesting to me that people's appearance is less important than their accent when it comes to how I feel towards them. And as your reward for reading this long post about a subject you might find boring, I have included a photo of a Miss Dispora beauty pageant contestant. Yes, there is a beauty pageant for everything. I couldn't really figure out much about her because the site was in Romanian language. I think her name is Mihaela Raluca.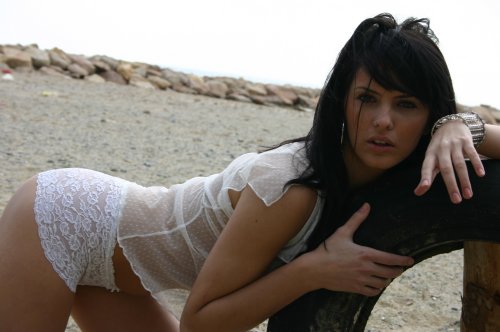 Tags: beauty pageant, Thai Culture
You might also like
21 Responses to "Thai people's feelings toward the Thai diaspora"
Leave a Reply