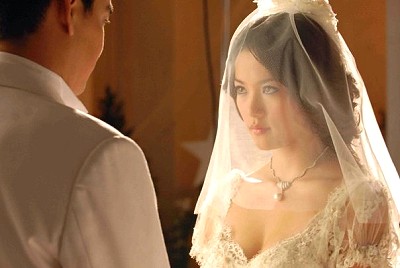 Gybzy Wanida has been a busy girl. She was in that movie called "Nymph" that made it to the Cannes film festival. And she is another movie that is opening at the end of this month called "My Ex".
That's a shot of her in a wedding scene from the movie, looking cute as ever. The story is about a man who is jao choo maak (a big playboy) who perhaps was going to change his ways when he got married. But it turns out that an ex-girlfriend is not ready to give him up, despite the fact that she is dead…yes, my dear readers, another Thai ghost story. Is there any other kind of Thai movie these days? Check out the trailer. Lots of blood.
Too bad about all that blood and killing and stuff because there is another hottie in this movie besides Gybzy. She is Bowie Atthama. You might remember her from this photo in my Bowie gallery.
There are some more photos of her in my Bowie gallery and she looks very cute from the front, too, hehe.

Tags: Gybzy, Thai movie
You might also like
6 Responses to "Gybzy in another movie"
Leave a Reply