While enjoying a latte today at Starbucks (thanks to a nice reader's donation) I read a story about a new push for yet another attempt to crackdown on the "inappropriate" way Thai university students are wearing their uniforms. You know what this is about, the very short and very tight way the college girls wear their uniforms, as demonstrated in that photo.
This time some adminstrators at Chulalongkorn are pushing for the government to form a "Social Cabinet" to set standards and enforce them. Oh no, is this the end of Chula bunnies?! I don't know about that but I do think that it is a bit much to get the government involved it something like this. What are they going to do, pass new laws? And then what, have the police enforce them? That would probably lead to some bad side effects. I mean, normally when the police catch somebody committing a minor offence they demand some money. In this case when they see a girl in a skirt that is way too short what are they going to demand? I can only imagine.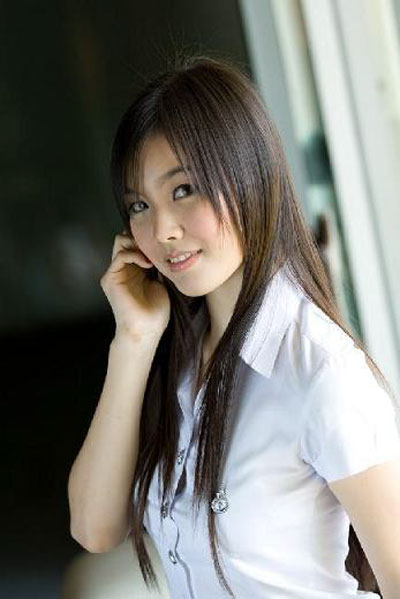 Then you have the problem that this coed has. Even when they wear their uniforms properly they are still too cute. You can see some more examples in a previous post about today's Thai coeds. I suppose that's not something they could crack down on. The serious school uniform violation problem looks more like this one below.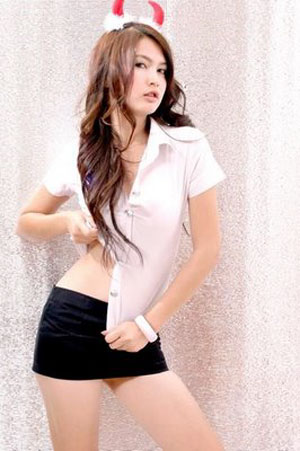 I thought that the schools should be able to enforce a dress code themselves but I suppose they can't do anything about what students do when they are off campus without having coed uniform police patrolling all the places the students hang out.
One thing they want to do is put pressure on celebrities to wear proper attire and not be bad role models for students. But as far as I have seen when stars dress as students they wear the uniform properly. Panward Hemmanee for example as a very cute student.
She also suffers from being too cute so maybe those strict administrators would have a problem with her in a college uniform.
This debate about coed uniforms has been going on a long time and I think it will continue. For lots of my previous reporting on it along with many photos check out posts on my old blog about Thai coeds. Don't be scared by the content warning that the creepy people at Google show when you go to the blog. There is nothing nasty there.

You might also like
13 Responses to "New crackdown on sexy coed uniforms"
Leave a Reply