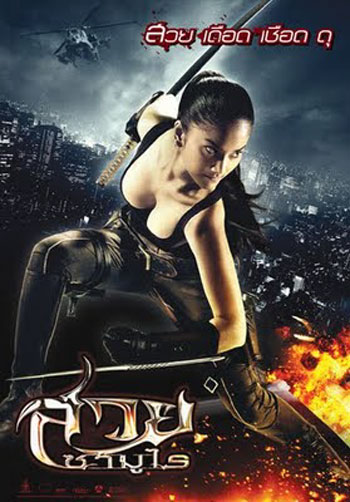 My news alert today pointed me to the release of a Thai film called Suay Samurai (Beautiful Samurai) which has the English title of "Vanquishers".
Wise Kwai has a post about the film. He says that Amy Chotiros was originally cast in it but was kicked out and cut out after the big scandal over a dress she wore. That's pretty sad. Yes, that was quite a daring dress but no worse than what a lot of other stars wear. It's just that she was too young and too early in her career to get away with it. Now her career seems finished. Here is a shot of Amy in the dress that caused the minor scandal.
So that's one girl you won't see in the movie. Who are the hotties you will see? There is Nuy Kesarin Ektawatkul who is a confirmed hottie, as she demonstrates in that photo below.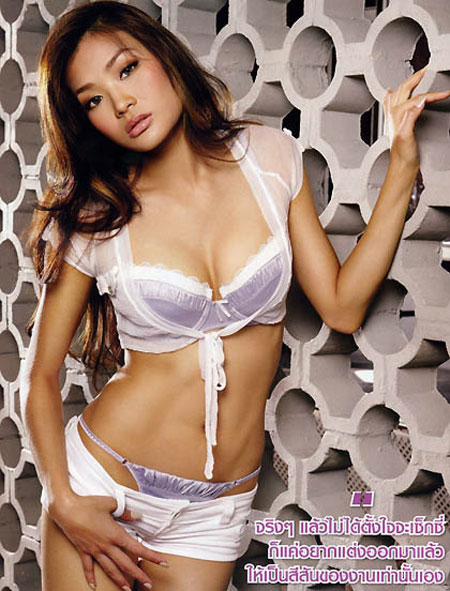 The leading actress in the movie is Sophita Sribanchean, whom I know nothing about. That's her in the poster above show lots of cleavage. Throughout the movie it seems she wears a lot of skin tight outfits.
There is also Jacqueline Apithananont – I don't know her and I think she is a new actress. Reports are that she is quite pretty, although the only photo I saw was on her Facebook page.
Here is a trailer for it. It's full of violence and killing, utter trash. And we don't get to see much of the hotties in the trailer either. But if you watch it closely you can see that the special effects are amazingly amateur, really pretty poor.
So do the hotties in the movie make it worth watching? I think I will wait for someone to compile video clips with just the hotties and without the violence. That I might watch.

Tags: Amey Chotiros, Thai movie
You might also like
5 Responses to "Some hotties in Suay Samurai (Vanquisher)"
Leave a Reply