So I'm catching up on the stars gossip today and I see the story about Pah Tob and Pimai getting married. Yes, that's right, the very rich and very unattractive lesbian Hi-So entertainment mogul Pah Tob and the young and very busty model (being generous) and actress (being very generous) Pimai Sumonrat are getting married.
Note: I'm not posting any more photos of Pah Tob so don't worry. I'm sticking with Pimai pix. Big ones. So click 'em.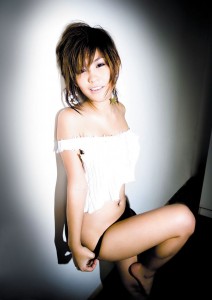 Dirtii Laundry has the full interview translated to English and the news that Pimai will be wearing a bikini as her wedding dress. Uh, ok, that's lovely. But then this extra information from the interview:
Interviewer: What are you planning to wear as your wedding dress?
Peemai: A bikini
Pah Tob: That's right, she will wear it for two minutes and then she'll take it off
All I can say is eww.

You might also like
11 Responses to "Can it get any weirder with Pimai?"
Leave a Reply