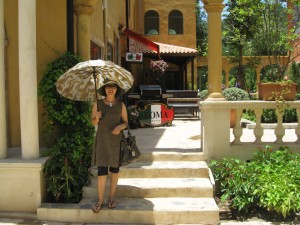 We have a little Italian village in Thailand. Did you know that? It is a walking and shopping street in Khao Yai area called Palio. It is next door to the well known Juldis Resort. I went there yesterday.
It is so cute. I don't think we have anything like that anywhere else in Thailand. There are many little shops and some restaurants. Only one problem – everything is very expensive. It was packed with people (holiday weekend) but I did not see many people buying anything. Mostly people just walk around taking pictures. I had something to eat and that was it. Not sure how all those shops will stay in business with prices like that. Definitely worth a visit though.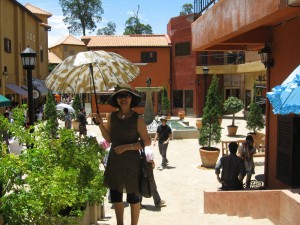 Google for more info about it. Lots of people have been posting pix and stories about it, including this one with a map of Palio that shows many of the planned stores.

Tags: travel
You might also like
| | | | |
| --- | --- | --- | --- |
| Me shopping As I mentioned in the previous post about Thai erotica writer Niwat Kongpien, I went shopping today.... | Coffee Memories Coffee Memories is a coffee shop on Thanarat Road near km 13 across the street from Khrua Khao Yai.... | A girl in the village These shots from one of the forums are kind of fun. A young girl poses in the middle of the road... | Aef and Songkran an item In magazine has a photo layout of the beautiful actress Aef Thaksorn with her apparent new love interest... |
3 Responses to "My trip to Palio Khao Yai"
Leave a Reply