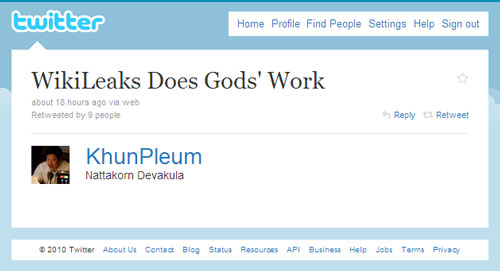 Maybe you know who Pleum is. He is a member of the royal family (mom luang) and a very interesting person. He went to school in the U.S., Georgetown University I believe, and is quite outspoken on many things in Thailand but with a more international point of view.
A while ago when the election of a new mayor of Bangkok was coming up Pleum said he might run and he started talking about his platform. One of the things he said is that he would shut down Soi Cowboy, Nana and Patpong. That got my vote, but sadly he ended up not running. I don't think it would matter anyway because Thai people elected Chuwit as a member of parliament and he had one of the biggest massage parlor empires in the country, prostituting more women than any other Thai person in history I bet. And because he was such a well known pimp he couldn't even get a visa to go to the U.S. What a national embarrassment. But that's another story.
It's kind of interesting that Pleum is so pro-WikiLeaks because, in case you didn't know, the big leak of cables includes some interesting ones about Thailand. You have to go searching for them yourself since most of the sources are blocked in Thailand and I couldn't link to them anyway or risk going to jail. If you do read about them you will notice that there are some revelations about some members of Pleum's extended family.
If you follow him at http://twitter.com/KhunPleum you can get the idea that although he comes from the establishment he is really against it a lot of times. He is currently asking why there is absolutely no coverage at all in the Thai media even though this is one of the biggest stories of the year. He even gives a link to a source for the leaks. I guess he can get away with it.

You might also like
6 Responses to "WikiLeaks does God's work – Pleum"
Leave a Reply