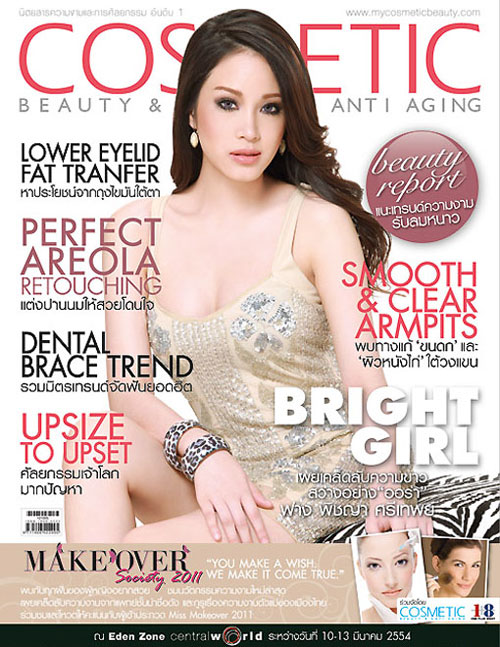 That's the cover of this month's Cosmetic Beauty and Anti-aging magazine. It's all about cosmetic surgery and they get into some very specialized procedures.
Like that "areola retouching" procedure. I don't think I have ever heard of that. Is there really demand for that?
The "smooth and clear armpits" is not surprising. If you watch much Thai TV you will see a lot of ads for deodorants that promise nice smooth white armpits. I guess if the deodorant products don't work you can visit the cosmetic surgeon for some laser treatments.
I like the title "Upsize to Upset". Using my imagination on that one, I think I can see a set of breast implants that are big enough to upset your favorite rival.
And of course they could use a little help with their English translation – lower eyelid fat tranfer. Don't they even have a spell checker on their computer at the magazine?
BTW, that is Thai model Fang Pichaya on the cover. She's beautiful. Wonder how much "work" she has had done.

Tags: breast implants, Cosmetic
You might also like
5 Responses to "Feature articles from Cosmetic magazine"
Leave a Reply