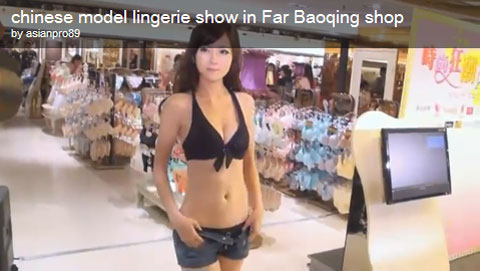 Traditionally in Thailand we don't have Thai girls modeling lingerie. It is always foreigners, sometimes Asian girls who might almost look Thai or else farang, the point being that Thai people can tell by looking at them that they aren't Thai so their sensibilities are not offended.
I guess they don't have that limitation in China where like in this video they use very pretty models to strut around in lingerie at a lingerie store. I always thought this would be a great way to get people in the store and maybe even sell some lingerie.
I have seen a couple of events in Thailand like the Triumph lingerie shows where they have Thai celebrities wearing lingerie but they always cover up so it is kind of pointless. They have foreign models who actually show off what they are wearing. At other events, instead of parading around in lingerie we have these funny concepts like a bathtub lingerie show with Panward Hemmanee in orange juice that are a lot of tease but still keep things covered up well.
Anyway, here is the video. It would be fun to see events like this in Thailand.

You might also like
| | | | |
| --- | --- | --- | --- |
| Lingerie wrestling I'm sure lingerie wrestling has been done many times before but just like girls kissing we can never... | Bowie models Playboy lingerie Here is Bowie Atthama modeling some Playboy lingerie for us. You might remember her in that picture... | It's a hot girl party At least that's what the poster called it. It's a party, for sure, and there are quite a few hot... | Koy busting out in lingerie One of the new cuties with short hair I am following now is Koy. That's her modeling some lingerie. Very... |
3 Responses to "This is how to sell lingerie"
Leave a Reply