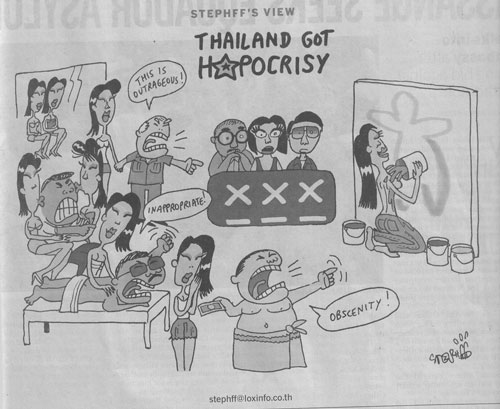 Maybe the story hasn't completely taken over the news but in today's The Nation there were two articles plus the Opinion page cartoon about it. That's the cartoon above with the title "Thailand Got Hypocrisy".
You can see the cartoonist depicting people in massage parlors and karaoke bars outraged over the "obscene" breast painting shown on Thai TV. There was also an opinion story titled "Breast Painting on the Tube: Is This Much Ado About Nothing?". And there was the news story that BEC (Bangkok Entertainment Company), producer of the show, was fined 500,000 baht for airing this during prime time on national television.
Wow, it sure got a lot of coverage. I wonder if it was worth it for BEC. Maybe with all the coverage that the show is getting. They couldn't buy the much advertising for any price.
I don't know if the cartoonist is a Thai person or understands Thai culture well, because the point is not really made. In Thailand, what people choose to do in private is usually left up to the individuals even if it is considered offensive by traditional standards. It's when they do something offensive in public that there is an outcry. The cartoon is a perfect example. All that sleazy stuff at massage parlors and karaoke bars is in private between consenting adults. A topless girl on national TV during primetime, although not nearly as sleazy (or sleazy at all in many people's opinions), is as far from private as you can get. Many parents are very offended as they don't like the example it sets for their kids.
It's not hard to see it at all. Would anyone consider it offensive for a man and woman to have sex? On prime time TV many would. A husband and wife in the privacy of their bedroom, no. Where to draw the line? Seems easy – between public and private. If that's where you draw the line then there is little if any hypocrisy involved.

Tags: Thai TV
You might also like
9 Responses to "Breast painting controversy takes over the news"
Leave a Reply