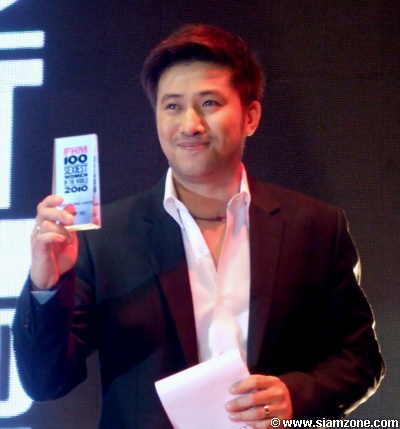 Reader John asked me my opinion on the best dresses at the FHM Thai edition Sexiest Women in the World awards event. So I started looking over all the photos – there are a bunch. But before I get that research done and post my opinion I must comment about this guy.
His name is Num. We get to see him on TV a lot and he always, always attends events that have sexy women. Sometimes he is MC as he was at the FHM event. Other times just a guest. And it's mostly because he is famous for being a playboy. At least that's how it seems to me. I just don't find him interesting or attractive so it gets kind of annoying watching his goofy actions that are all about being jao choo.
Maybe that's his trademark and that's how he keeps getting invited to these events. Since it seems to be working for him he keeps coming up with new scandals. Like today the little story about how he was texting love messages to Oh Rungrawee even though his official girlfriend is May Fuengarom. Here's the dumb look he always gets on his face when questioned by the media about one of his flings.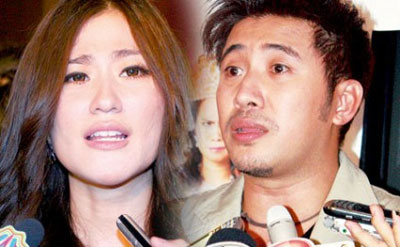 That's not just one of those bad photos that even the best looking stars get sometimes. That's the same look he gets every time when confronted. I'm not sure it's real or all part of his act, but in a country with so many serious playboys it is really something to be famous for it.

Tags: FHM, May Fuengarom
You might also like
Leave a Reply