The Tiger Woods scandal was on the news in Thailand. He is pretty famous here, ya know. They had his little speech, too. It wasn't very interesting. But the funny part is all the reactions by all of the people related to the scandal. The funniest of all was the quote I read today from Gloria Allred.
[cjniche keywords="breast implants" listing="1″]
Gloria Allred was talking about some adult actress she is representing named Josyln James (that's her photo above, uh, yuck). Here is what Gloria said:
"(He) did not apologize by name to my client, Veronica, and I ask, `Why no apology?'" Allred said. "Veronica had a three-year romantic relationship with Tiger Woods … He led her to believe that she was the only woman in his life — other than his wife."
OMG! Did she really say that?! I don't know much about her except she always shows up when some tramp wants to sue somebody famous. That's what she does for a career, right?
I saw her on TV a few times and she just seemed like a cartoon character in real life. Can you guess which Thai cartoon character in real life that Allred reminds me of? Here is a hint.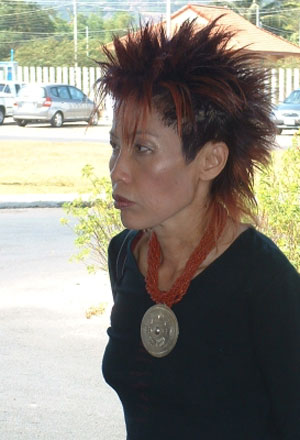 It isn't so much how they look, although they both have hair that would not move in a typhoon. It's the behaviors. Although I do have a lot of respect for Dr. Khunying Porntip when it comes to standing up to the Thai police, she really turned into a cartoon character with her comments about the GT 200 bomb detectors.
More trashy gossip on this story at Zeitgeisty blog. And if the bad implants aren't enough there is a pic of her fat rear at Daily Inquirer.

Tags: humor
You might also like
3 Responses to "Funny quote of the day from Gloria Allred"
Leave a Reply