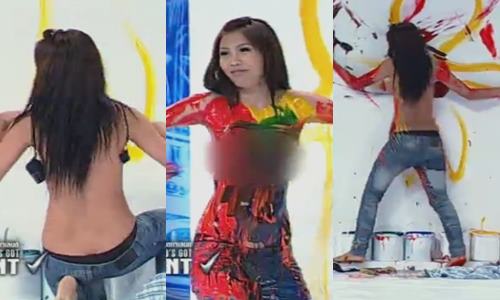 The big news story in Thailand since yesterday is the controversy around the TV show "Thailand's Got Talent". They have some very talented performers on there sometimes. Other times not so much. Yesterday they aired the portion of one show with a girl who paints a picture with her chest while topless.
So that was pretty risque, although with all the paint covering her and the censoring of the naughty parts it wasn't that exciting. The controversy is about the reaction of the judges. One of the judges is the lovely and famous actress Benz Pornchita. She was quite unhappy with the performance and gave the "artist" an early buzz (means contestant does not pass and is out of the competition). The other two judges were men and both argued that it is real art and she should pass. Benz became very upset and started arguing with them and eventually walked off the set.
I think it might all be staged, but it makes for a good news story and everybody is carrying it.

You might also like
9 Responses to "Thailand's Got Talent topless painting"
Leave a Reply